Oxtail, lentil and sweet potato soup
Posted on Mon April 6, 2020.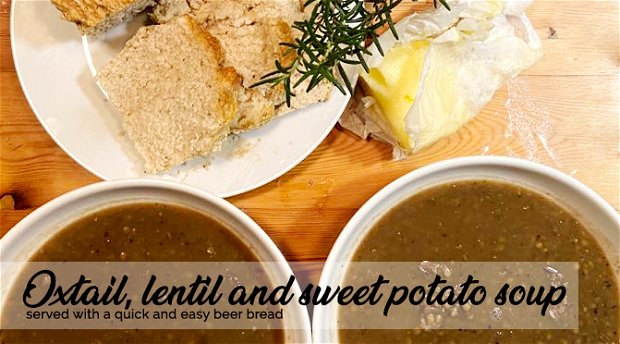 We are in our second week of the Covid-19 lock down and all doing our best to keep safe and flatten the curve.
I thought while you're stuck at home...I'll share this delicious Oxtail, lentil and sweet potato soup.
Winter is just around the corner and this personal favourite should definitely be on your menu this coming winter.
My husband and I make this hearty soup every winter to sell at our local Pure Boland Market.
Ingredients:
2 medium Onions finely chopped
1kg Oxtail
Salt & pepper to taste (we love to use some whole black pepper as well)
1 large Sweet potato grated (with the skin)
500gr Brown Lentils
In the pressure cooker:
Saute onions in some olive oil.
Add the oxtail and brown the meat.
Add salt and pepper to taste. (We love to use a lot of ground black pepper and even add some whole black pepper as well).
Fill your pressure cooker about one third with water. Close the lid and steam till the oxtail is soft.
When the Oxtail is soft, add the grated sweet potato and a packet of brown lentils.
Half fill your pot with water, close the lid and steam for another 15 minutes.
Cook without the lid until you get a soup thickness.
You can also add more water and/or salt & pepper to taste.
Serve with a delicious home made bread.
You can bake this very quick and easy beer bread that my mother used to bake for us when I was a little girl.
Growing up on a farm this was a real treat - delicious straight from the oven, with some real home made butter.
Quick-and-easy Beer Bread
500gr self-raising flower
1/2 tsp salt
340ml beer
Mix it all together
Add the dough to your greased bread pan
Bake in a pre-heated oven, 180degrees, 45 minutes to an hour.