Covid-19 Projects
Posted on Mon June 1, 2020.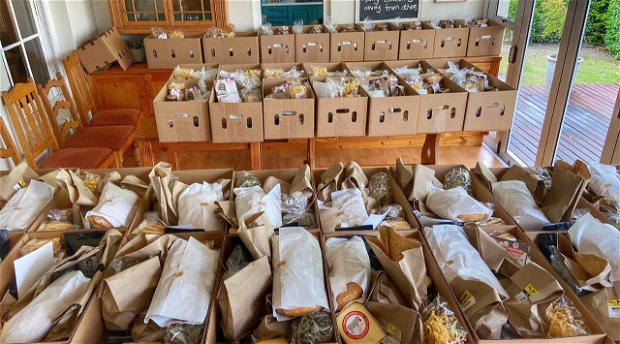 First, we want to say thank you
Two months after lockdown struck the tourism industry in South Africa, we at The Habit Guest House are extremely grateful that our staff are still working and able to provide for their families.
With an essential services certificate from the onset of the Covid-19 lockdown, we could continue providing accommodation to essential workers for whom business travel was unavoidable. In that regard we say thank you to every essential services provider who trusted and chose us to provide them with safe accommodation in Worcester. Your booking was a lifeline that kept us going in those first few weeks.
With the extension of the Level 5 lockdown in April, we were compelled to launch a project that could further sustain our own team members along with about two dozen entrepreneurs from across the Breede River Valley. And so, the Pure Boland Produce Box was born. It is a home delivery of local food products normally available at the Pure Boland Market, another of our owner Tharina Marais' small business ventures. The weekly deliveries have been well received and we are sincerely grateful for your overwhelming support.
Our thanks will be incomplete without acknowledging the regulars who had supported and built our guest house and market through the years. You had essentially contributed to the strong base from which we could weather this storm, and for this we can only say thank you. We trust that we will get through this together, more appreciative of the people and things that make life worthwhile.  We know the challenges continue, but so does our fighting spirit.
Essential Services Accommodation
The Habit Guest House has been a provider of essential services accommodation in Worcester since the beginning of South Africa's Covid-19 lockdown. We want to assure all essential travellers that we prioritise your safety as much as your comfort, and we gladly supply the following safety information for your peace of mind:
We received an essential services permit at the beginning of Lockdown Level 5.
All our staff immediately adhered to government-implemented protocols.
All staff wear facemasks while at work and do hand sanitizing at regular intervals.
Warm water, soap and hand sanitizers are available throughout the premises.
All rooms and self-catering units are deep cleaned before and after the arrival of each new guest.
All rooms are equipped with a bottle of surface disinfectant while guests are staying.
All rooms are equipped with coffee and tea facilities, a microwave oven, beverages in the mini fridge, DStv and Wi-Fi to minimize the need for visiting communal spaces.
Surfaces in shared spaces like the reception area and hallways are regularly disinfected.
The premises have been decluttered to minimize exposed surfaces.
High-risk areas such as the kitchen, swimming pool and honesty bar have been closed.
Food delivery can be arranged to each guest's room.
We provide accommodation for essential staff working in Worcester as well as the neighbouring towns of Rawsonville, De Doorns, Touws River, Robertson and the rural areas of the Breede River Valley.
Since the announcement of Level 4 lockdown, we provide Worcester accommodation on short notice when essential travellers haven't reached their destination by the start of the nightly curfew. This is, of course, if we aren't already fully occupied.
Despite the strict hygiene protocol and practices in place, we keep your comfort at the heart of our business. The privacy and tranquility of our luxury en-suite rooms and self-catering units – conveniently located in the heart of Worcester's CBD – means that The Habit provides accommodation that is perfect for essential workers in need of a good night's sleep.
We are equipped and ready to continue serving you through all levels of South Africa's Covid-19 lockdown and promise to uphold all safety measures through Level 3, Level 2 and Level 1. As one of Worcester's best-known establishments in guesthouse and hotel accommodation, we look forward to welcoming you so you can continue working without worry.
Pure Boland Produce Box

In a bid to ensure a continued income stream, about two dozen local entrepreneurs joined forces to deliver a selection of locally produced food products to buyers' residences. These small-business owners, taking their cue from founders Pieter and Tharina Marais, are all exhibitors at the Pure Boland Market who would normally sell their products at the monthly farmer's market.
The produce boxes were launched after the extension of South Africa's lockdown Level 5 in April, when local entrepreneurs realized that they would have to be creative in order to sustain themselves and their dependants. Considering that the market was established over a decade ago as a platform for a collective of local producers, it seemed only natural that the lockdown plan would once again be a joint effort.
The result was a prepacked box filled with locally produced food products, delivered every Friday to customers' homes. The contents of the box vary from week to week, but include a variety of fresh fruit and vegetables, bread, meat products, home-cooked preserves, rusks, coffee, cheese and other home-made treats from the Breede River Valley. The idea is to replace or supplement at least one trip to the supermarket while also supporting a group of local small businesses.
The Pure Boland Produce Box has been so well received that it is likely to provide an e-commerce income stream for years to come.  Since launching the box 8 weeks ago we also had a lot of enquiries from neighbouring towns and the Cape Peninsula area and we've started to deliver in these areas as well.
To view box contents, place orders and make the required pre-payments, visit the Pure Boland Market Facebook page once a week.