A handful of facts from 200 years of history
Birthplace of the artist 'known only by his absence'
Posted on Wed February 19, 2020.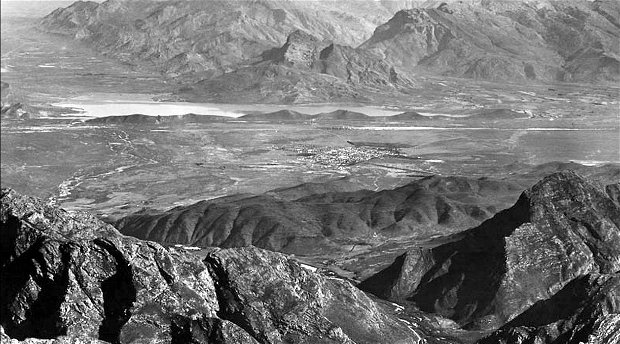 As we prepare for a full week of bicentennial celebration events in Worcester, we learn from local historian Dr Julian Kritzinger about a handful of the more fascinating facts from the history pages of our town.
The artist 'known only by his absence'
Worcester was the birthplace of South Africa's first "township" artist. The house in which he was born, still stands.
Dumile Feni was born in Withuis, Zwelethemba in 1942 and died in exile in New York in 1991. He has been described in art circles as an enigma: Despite his relative success in overseas exhibitions, his high esteem among peers and his position as one of South Africa's most important artists, biographical information and access to his work were extremely limited for a long time. After all, only 19 of his drawings had been acquired by local art institutions before he left the country in 1968, according to art historian Bruce Campbell-Smith.
It took years for his daughter and researchers to recover scattered pieces from across the globe. A recent City Press article puts the number of recovered works at about 400 while one Feni expert estimates sales from his estate to total more than R60 million to date.
Despite the label of "township" artist, experts say it is important to note that Feni, as "the master of turbulent imagery", never softened his distinctive expressionistic style to make it more palatable to a Western market. His best-known works include exquisite sculptures and highly charged monochromatic drawings.
He died in poverty.
The poet who helped bring Sarah Baartman home
Worcester-born literary icon Diana Ferrus is widely credited for the role she played in the return of Sarah Baartman's remains to South Africa.
Ferrus, who matriculated from Esselenpark High School, wrote a poem called "I've come to take you home" while studying in Utrecht, the Netherlands in 1998. She later recalled in an interview that she had longed for home one evening when her heart suddenly went out to Baartman. "I thought, 'Oh, god, she died of heartbreak, she longed for her country."
The poem had such an emotional impact that it spurred decisionmakers into action, fighting for the French government's release of Baartman's remains. They were finally returned and buried in the Eastern Cape in 2002.
Ferrus was requested to write a poem for Worcester's bicentenary. The monument to be revealed in the Garden of Remembrance next week, will be engraved with this poem. The stone for the monument was specially selected from the quarry that supplied Worcester the stone for its very first foundations.
The era of the Catholic nuns
Newcomers in Worcester are often surprised to learn that hundreds of current residents came into the world in a maternity clinic run by Roman Catholic nuns. This clinic was situated on the corner of Church and Fairbairn Streets, where The Pines lifestyle clinic is situated today.
The nuns resided a few street blocks away, however, in a nunnery on the premises where The Habit Guest House is today. According to Kritzinger the buildings at 6 Porter Street were part of the larger Catholic church complex at the former entrance to the town (around 1875). It explains how a guest house in the town centre can have enough space for ten bedrooms with full en-suite bathrooms, three self-catering units, a large garden plus secure parking.
The maternity clinic ceased its operations in the late 1970s and Worcester's last Catholic priest – a Belgian with a keen interest in art photography of the town's Cape Dutch homes – passed on in the early 2000s.
People who made an impression
Many individuals who have had a lasting effect in their fields, were rooted in Worcester. The Breede Valley municipal council decided last year to bestow honourary "Freedom of the Town" titles on nine former residents.
Dumile Feni (posthumous).
Diana Ferrus.
David Kramer, South African singer, songwriter, playwright and director, most notable for his musicals about the Cape Coloured communities and for his early opposition to apartheid.
Cecyl Esau, an activist with the Institute for Justice and Reconciliation. Esau previously worked for the ANC after spending 1987-91 in prison on Robben Island for his involvement with Umkhonto we Sizwe.
Prof. Raymond Parsons, a professor at the NWU School of Business & Governance and a Special Policy Advisor to Business Unity South Africa (BUSA). In 2004 former President Thabo Mbeki appointed Parsons to the Board of Directors of the SA Reserve Bank. He was reappointed in 2008. He was also a director of the SA Mint.
Justice Thembile Lewis Skweyiya (posthumous), former Constitutional Court Judge who also acted as Deputy Chief Justice.
Ayesha (Bibi) Dawood (posthumous), a hugely influential struggle activist who was one of the accused in the infamous Treason Trials of 1956. She was forced into exile before returning to her birthplace of Worcester, where she died in 2014.  
Dr Danny Titus, academic, former commissioner of the South African Human Rights Commission and a director of the Afrikaanse Taal- en Kultuurvereniging (ATKV).
Prof. JM Coetzee, winner of the Nobel Prize in Literature in 2003.
Another Afrikaans literary master, C. Louis Leipoldt was born here and so was the late Thabile Mtwazi, former commander of Nelson Mandela's bodyguards in Cape Town.
The story of the mass grave for horses
When the museum at Kleinplasie was built in 1980, multiple horse skeletons were unearthed on the site. The reason? Kleinplasie had been a British remount camp during the South African (Anglo-Boer) War at the start of the 20th century. Injured and sickly horses had been brought there to recover (some would inevitably die). New horses, mainly from India, were also conditioned for war by training them to leap over trenches, to keep going amid heavy gunfire, and the like.
It was unfortunately not the only war with which Worcester had ties. There is evidence that an Italian Prisoner of War camp was set up at Kleinplasie during World War II. These men were used as labourers to build Du Toitskloof Pass, after which some were placed to surrounding farms where remnants of their presence remain.
The magic of Fairy Glen
Just to end off on a lighter note: The name Fairy Glen crops up several times in and around Worcester, and it has to do with a rare flower. One of Worcester's best-kept secrets according to Kritzinger is a wall of red disa underneath an overhanging waterfall, somewhere in the mountains above Brandwacht. It is apparently this magical sight that inspired the inclusion of the mythical fairy in local place names.
* Worcester will celebrate its 200 years of existence next week from 24 February to 1 March. Click here for the full programme.
** Additional sources:
johansborman.co.za, quoting Bruce Campbell-Smith
city-press.news24.com
uwc.ac.za
dianaferrus.blogspot.com
wikipedia.org
berkleycentre.georgetown.edu
nwu.ac.za
concourt.org.za
thepresidency.gov.za